I will try to post any EXTRA tips and advise on this page for you. There are many of you out there that are already "expert crafters" that don't need any extra help from me, but for those of you just starting out, I will try to give as much help as I can. I know there are alot of you out there that are just starting out, opening up your own websites, selling at craft shows and online, and just need a few tips!!!
The "Vintage" look is definately in!!! Just by adding a little vintage tag to an item may just be what sells it. So, my advice, if you don't have a color printer then try to purchase one. You can print as many tags from the PDF file as you want! To prim up the tags a bit you can spray them with Glossy Wood Tone (757) spray stain by Master Design and sand the edges a bit with fine sandpaper!
For ALOT of my snowmen HATs I cut 1-1/4" black circles for the brim. With the amount of snowmen I make I find that it is SO much easier to get the circles already CUT!!
and purchase some already cut. It makes things so much easier.
Enter coupon code "CountryFriends20" and receive 20% off your order (with a minimum $20) I have a big box full of the circles and use them on my melting snowmen and other snowmen using the same hat design. It saves so much time!!
You can find Styrofoam *(polystyrene) on Ebay. Just go to www.ebay.com and do a search for 1" Styrofoam balls. The polystyrene is a much sturdier material and works very well. You can also find some at www.smoothfoam.com and buy in bulk too.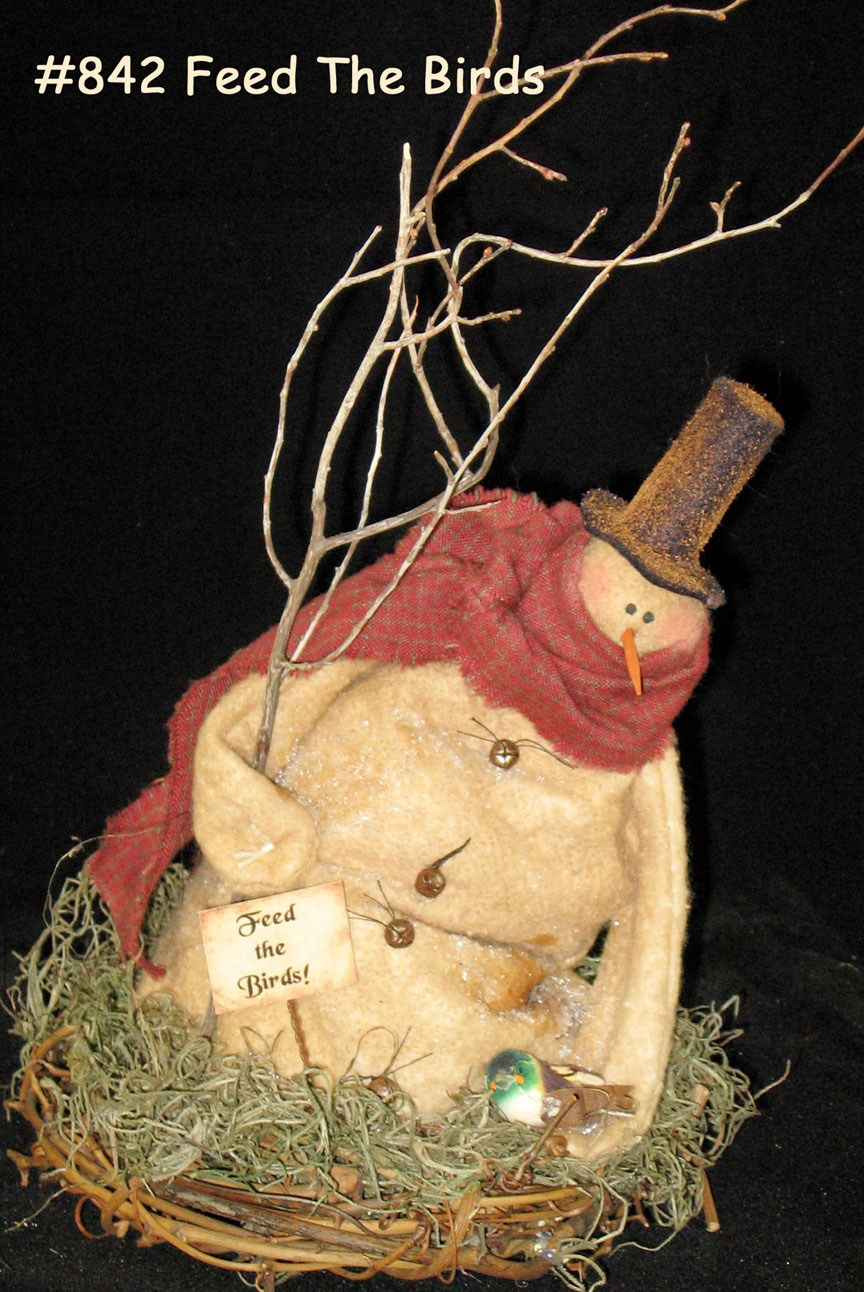 Use the snowman pattern from my new #842 Feed The Birds. Place some Moss or Excelsior on top of a 6" grapevine wreath and wrap some 22 gauge rusty wire around the wreath to secure the moss. Tack the snowman in place and tack his hand down on top of the wreath glueing the little bird in his hand!
This clever idea comes from Loretta Spiak:
When I print out my prim tags I do it on old brown grocery bags cut into sheets to fit my printer. They really come out looking old especially if the bags are a little wrinkled. I think you could use brown craft paper too but the bags are free so why not use them.
This great idea comes from Barb in CO!!!
She took Little Wynter Joey from pattern #840 and made a fleece hat, added some chenille stem candy canes from Jaime's Ice Skate pattern (or use Candy Cane from Smokin Joe)....dipped in Mica Flakes......added a rusty bell and some Christmas Greenery!! How clever and cute!
Coffee Staining 5 Yards of Cheesecloth only takes a MINUTE or TWO at the most!!!!!
It only takes a minute to coffee stain this 5 yards of cheesecloth!! I mix 2 cups HOT water and 5 tablespoons of instant coffee granules and a splash of imitation vanilla for scent. Keep the cheesecloth rolled up and pour the coffee over and let the cheesecloth absorb all the liquid. You don't need to let it soak. Squeeze out all the excess liquid and hang to dry.
NOTE: The cheesecloth that Jaime (at www.country-whims.com) is now selling is a better quality cheesecloth than what you can get at the fabric store. You don't need to use as much in some of my patterns. I was use to using a cheap cheesecloth and needed to cut the pieces alot wider. Using the better quality cheesecloth, you don't need to use as much.
Tip: Get at least 10 yards of cheesecloth and do 2 batches at a time. On a hot sunny day, you may see 50 yards drying on my line since I use so much of it!!
Here I have 50 mice drying on the line. I am making 50 of the Santa Hat's with the mice for my next show.
Here is a great idea from Vicki in MN. She placed the Prim Snowball Head from pattern #790 in a grapvine wreath and added some red pip berry sprigs. Looks like a 6" grapevine wreath. Vicki says:
"I love the ease and quickness of your patterns!"
Vicki made a dozen of these in a day and is now working on some Snowman Make-Do's!
Here is another great idea from Vicki!!
Vicki says: I took the prim snowhead and made into a scarecrow! used the 6" grapevine wreath, muslin head, raffia hair, straw hat with some moss and a plastic gourd or pumpkin added to it.
Here you see 120 of my #780 Christmas Ornies drying outside. After adding the mod podge and German Glass Glitter to the hats, I clip them into some box tops so they can dry. I will package these in cello bags and sell them for $6.00 each. They sell fast at the shows so another batch of 100 ornies are in the works!
I take advantage of any sunny days, especially in the Winter!!!! I will usually dye about 15 yards at a time. You can go to Jaimes website at www.country-whims.comto purchase the dye and instructions on how we dye this much Warm & Natural at a time.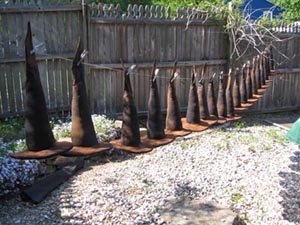 You can usually see something outside on the line drying......You certainly would not want to use the same line to dry your clothes because of all the cinnamon, paint, and fabric stiffener that tends to get on the line. Here I have some Witch Hat's drying in the sun. They dry so fast outside this way. You should see what my backyard looks like with 50 snowmen hat's laying out to dry. I'll take a pic of that the next time I do them!!
Here are my new Prim Witch Dresses hanging out to dry!!! They were very fast and easy to put together. I am so glad summer is here so I can take advantage of those sunny days!
Use the images from pattern #795 (Tea Light Hat) and print them on plain white paper. Grungy up a 4-3/4" x 2-3/8" tag and Mod Podge the image on it. Add a bit more glue around the tag and sprinkle on some German Glass Glitter. Here I used a fine Silver glitter. Jaime at
www.country-whims.com
has many colors to choose from. You can grungy up your tag before you glue on the image by soaking in a strong coffee solution and lay flat to dry. You may have to press the tags between 2 books to keep the edges from curling after it is dry. Add a homespun tie and your done!
A great idea is to put my Tea Light Hat (Pattern #795) in a Poly Bag, so when people at the craft shows pick them up and turn them upside down, the lights don't fall out!!! I used 8" x 4" x 18" bags. You can find this size at www.country-whims.com
(The topper image I used on the bag you can purchase as a PDF file on my Vintage Images Page).
The #780 Pattern Christmas Ornies AND the #785 Wine Bottle toppers were also a great seller. I put them in these 5.25" x 3" x 13" bags and people would pick up a few at a time to purchase. You can purchase the topper image used on the bag on my Vintage Images page. Jaime at Country Whims is selling this size bag on her site (www.country-whims.com) in quantities of 25.
You can use a smaller size bag (4.5" x 2.75" x 10.75") for my other "#715 Clothespin Ornies" because they don't have the arms sticking out to each side.