Still working on confirmations of the shows I will be doing in 2018 hopefully adding at least one new show.
I will NOT be doing any Spring shows.
Please go to my FACEBOOK page to view recent pictures of shows I've done.

"2010" Christmas Sampler Show




Front of 10x15 corner space
Best sellers were the Big Candy Canes, all the big snowmen, anything with and/or holding lights!
If you want to see more pics go to my Facebook Page. I am having problems inserting pictures to my site.......

Sturbridge JULY 2010 show:

Front view of booth.

Side view of my corner space. Looks like I have 2 little shoppers! And yes the candy canes sell in July! And Jaime has a few new patterns in the works that we tested out at the show and they did VERY WELL!
Best sellers were:
Pumpkin!!! I sold for $16.00 Maybe a bit too low! But I also made some other ones and placed the pumpkin on a nice candle ring/teeny lights and it looks beautiful! I sold those for $23.00. I'll get a picture when I make more!
New Snowman Dawson the Drifter. I had him placed on a pine wreath with the teeny lights and sold him for $23.50
Chauncy sitting on the grapevine wreath and also in the greenery/berry/rusty candle ring with lights for $18.50
Candy canes for $8.95
And I did sell a bit of everything else to my surprise! I didn't think people would buy so many snowmen in July but I was wrong!
I plan on stocking up on the PUMPKINs for my November show.

Here is Dawson the Drifter sitting on a 10" pine wreath with a strand of 20 teeny lights.
"2009" Christmas Sampler show in Springfield, MA
This year there were a number of great sellers. My candy cane was number #1 selling 150 of them in about 45 minutes!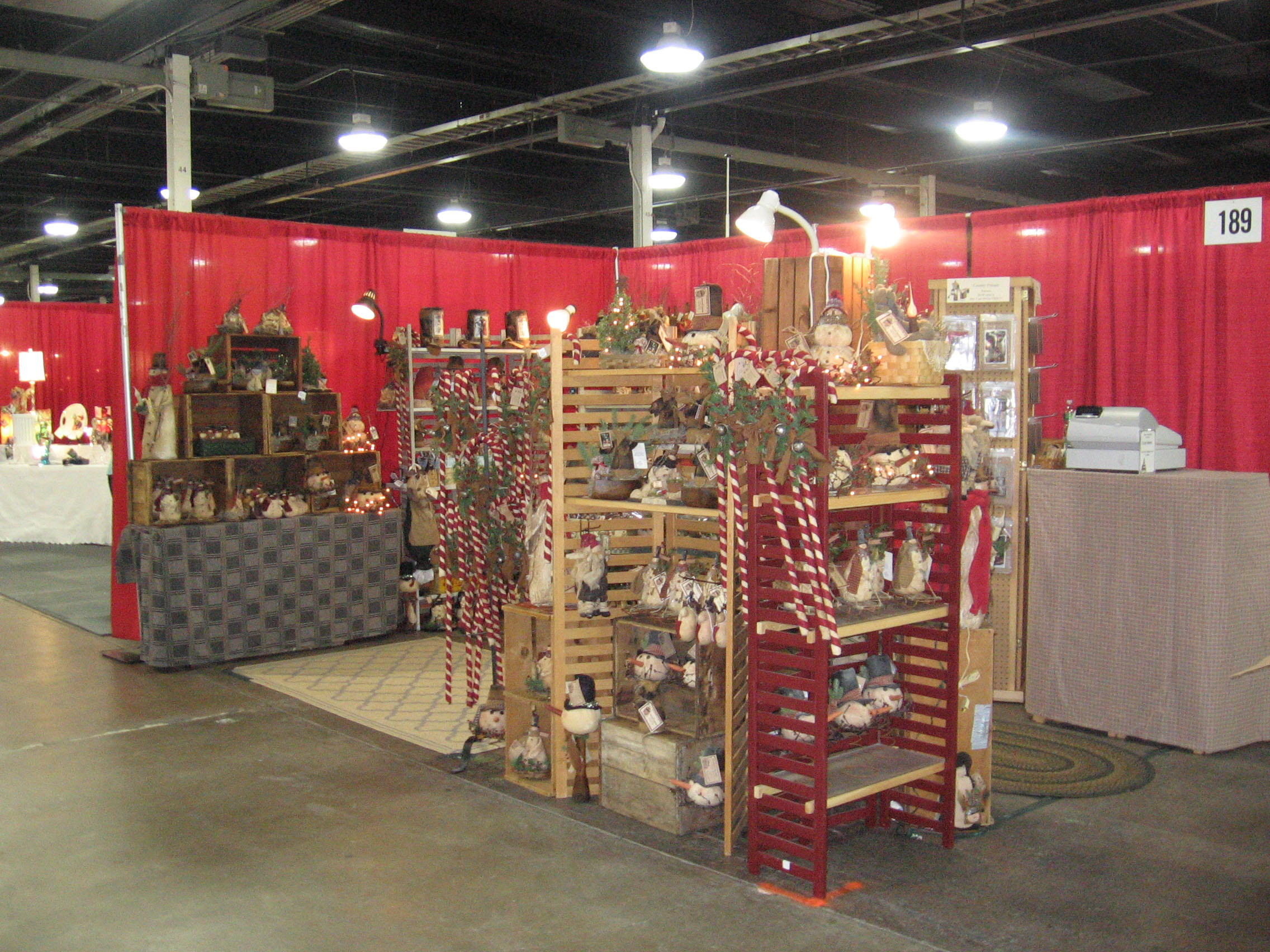 I really love having a corner space, but I have not yet mastered how to utilize the space very well.
Here you can see I used a black iron basket tree to display my candy canes.
Only a few remaining Witch Hats at the end of the show and a few ornies. Next year I hope to have enough stock for the show.
Boxford Apple Festival 2009 turned out to be a perfect Fall Day!! Great music and great food! I'll be back next year for sure!!
Well everyone wants to know, how things went this year. Well the sales can't compare to 5 years ago thats for sure! So if you have yet to do any shows this year don't expect to make what you did years ago.
So what were the best sellers???? Everything I didn't bring enough of "of course".......
***I only brought 3 of the Santa Hat/mouse (from pattern #822).........and they sold right away.
***I only brought 3 Big #750 Snowmen hats and they sold right away.
***I didn't have enough of the Fall/Halloween stuff made so can't help you there.
***All the small ornie items sold well. (#850 Santa Gift card)......
And of course I sold all the large candy canes that I brought. (I brought 40 of them). Could of sold more if I had them!
Christmas Sampler Show in Springfield MA (2008)
I had a corner space this year which was a very good decision. The booth was packed full. I wish I could have placed the front shelf unit to the back, but there just wasn't any room. I can see now that it just blocked everything behind it. But it surely didn't hamper any sales!! It's a good idea to take pictures so you can see what changes you would make to your set up.
This is the side view of the corner space. Behind the little red shelf unit I have an old ironing board with a silver tinsel tree.....forgot to take pics of that....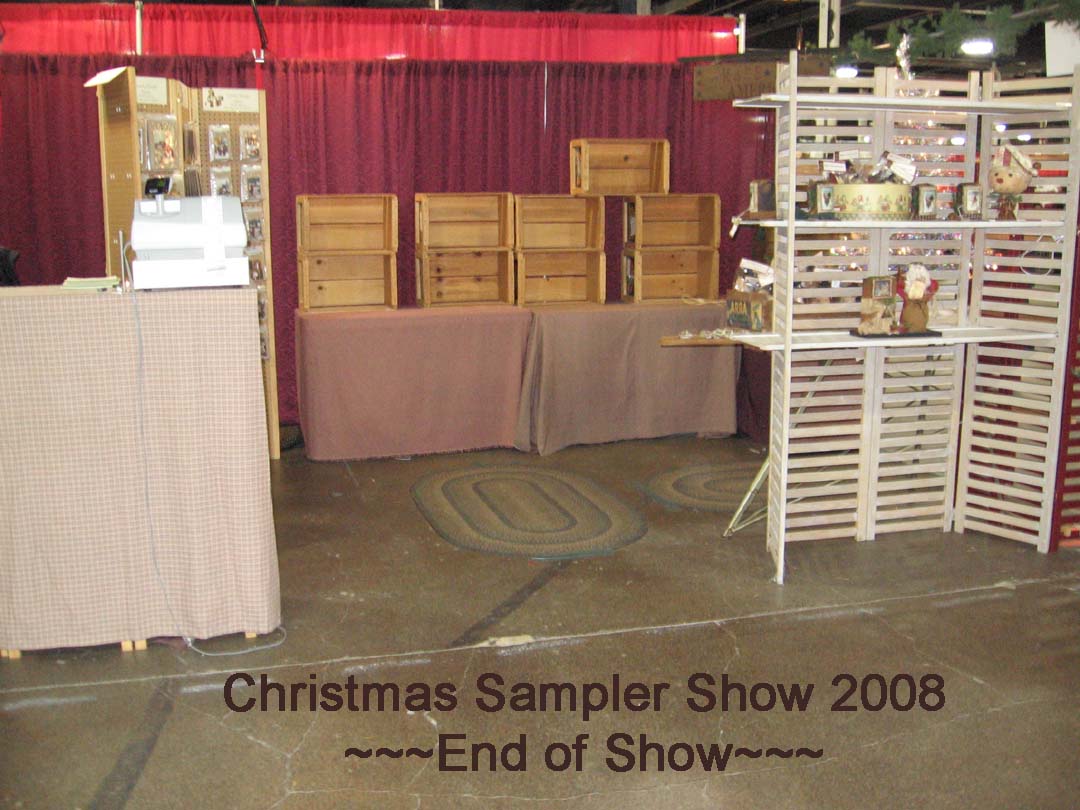 Well if you want to know "What Sold".......Just about everything!!!! On Sunday only a few ornies and misc. stuff sat on the shelf!! I took out a few of the shelf units and alot of crates on Saturday because everything was empty! It turned out better than I thought with the economy, and I am very thankful!!